Jimmy Kelley is Back!


He's been quiet for a couple of years while working on a few secret SEO technology projects.


Those projects have produced truly groundbreaking products that are first being offered to SEO Mastermind Members at special pricing.


Wait until you see the Keystone 'National SEO Ranking' offer we have spent the last 5 years developing!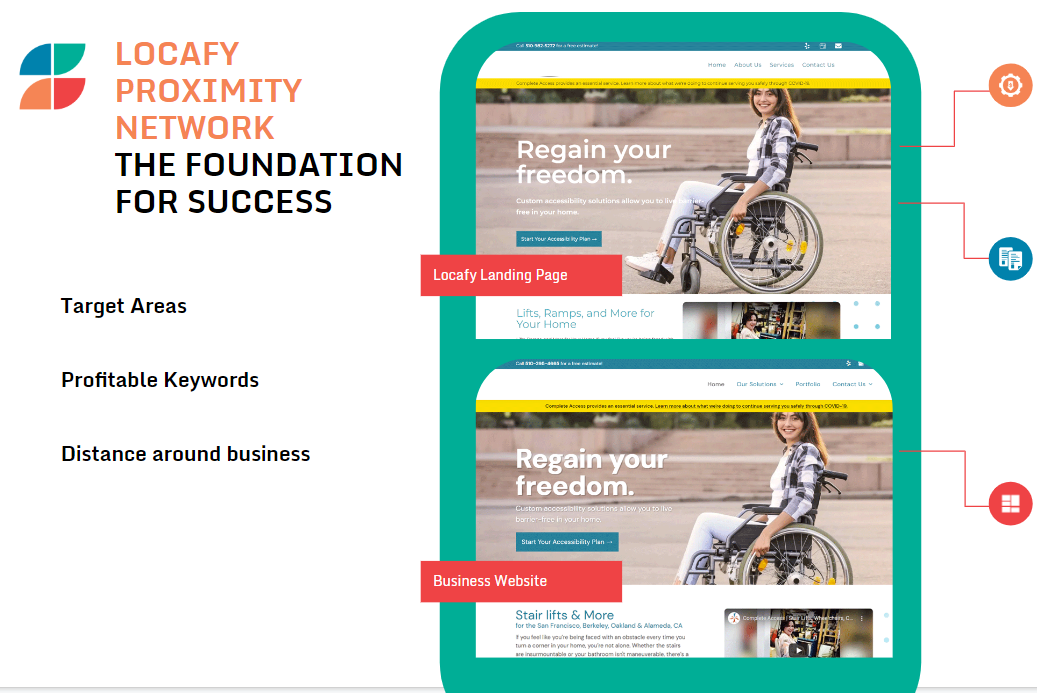 1. The Locafy Proximity Network

The Network is a collection of keyword and location specific landing pages that are highly optimised and interlinked. Your business is in one zip code, but your customers are located all around you. Local Landing Pages are an excellent way to create additional pages that are designed to rank higher in search but coupled with training can help be used to push more rankings to other targets.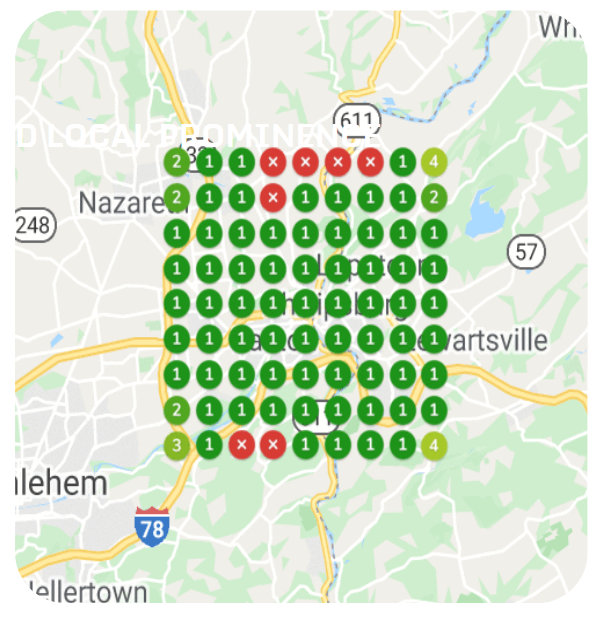 2. The Locafy Proximity Booster


The Booster includes a Proximity Network (range of sizes) plus boosting technology that expands the presence of your GBP. This helps deliver potentially two points of prominence in search, being both organic through the Network Pages and in the Map Pack through the Booster.
3. The Proximity Halo (aka Green Arrow)
The "Halo" includes all the benefits of the Booster plus technology that will impact the rankings of up to five additional urls, creating a "Halo" effect for targeted keywords. This solution requires training to understand how to maximize the effectiveness of what is our most powerful local SEO solution.
4. The Keystone National Ranking


Pick specific keywords to rank for nationally. These will be given on a
first come first serve basis
, ie once one of you orders Plumber, another cannot have the same Term.… there can be only one…and you must be a SEOMA member to access this breakthrough technology. Special offer is coming up soon in this presentation.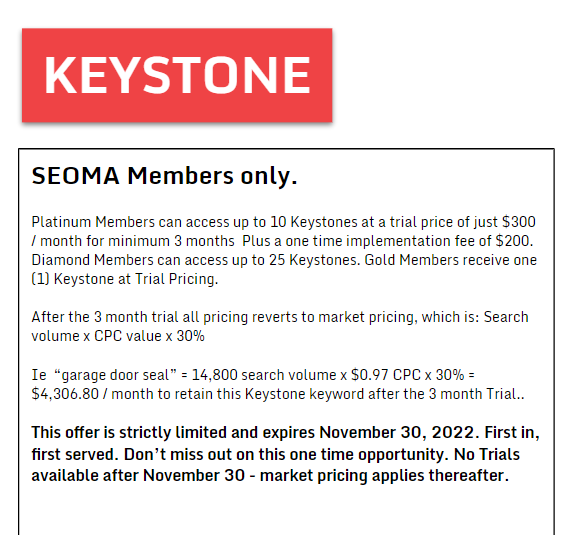 Doors Open: Please reserve your national keyword ranking ASAP



Hello everyone.


Hundreds of you have contacted us asking how to reserve a spot inside Jimmy Kelley's Search Engine Optimization Mastermind Academy. Thank you for patiently waiting for the pricing details and the included software.


Jimmy was unhappy with what we offered on the webinar, so he scrapped that offer and sweetened the deal. The team came up with an 'Everything-Already-Included' pricing offer. You can find out about it here for a limited time.


Those of you we have spoken with directly on the phone have been immensely helpful in providing feedback about what you would LOVE to see included for every SEOMA mastermind member. 


Here is your overall wishlist:


You want a 'Large' Locafy SEO package for local organic rankings to be used as you see fit. And you want Jimmy Kelley to teach you how to use it. So, we have upgraded the 'Small' to a 'Large.'
 You want a 'Large' Locafy Map ranking package for local clients included in your monthly membership price. You also want Jimmy to teach you how to use it. So, we have upgraded the 'Small' to a 'Large.'
But you ALSO want Jimmy's Locafy 'National' keyword ranking technology called KEYSTONE included without any additional cost in all membership levels for an extended trial period. Really? Lol. So, amazingly, Jimmy and Gavin have removed any additional fees for 90 days - only for JKD-Locafy SEO Mastermind Members.  


Why did we 'alter the deal' so much in your favor? The addition of the KEYSTONE 'National' keyword ranking technology surprised me a lot.  


It is important to remember that Jimmy authentically wants our friends, family, and long-time JKD customers to go with us to the next stage of our SEO journey. He has also expressed that he would like our small group to have access to the most effective SEO technology and process our team has ever seen.


Our team commitment is to make sure that you 10X your SEO Agency earnings by knowing EXACTLY how to execute multiple 'Page-1' SEO rankings predictably and repeatably. Using Jimmy's step-by-step instructions and the arsenal of Locafy SEO tools we just added to your membership area, you should be able to scale in ways most SEOs are not dreaming of right now. If you are not an agency, you should use the Gold package to rank your business website and map listings while increasing your area's phone calls and overall rankings. Or, learn from Jimmy how to rank your website for a national term using KEYSTONE (included). 


Again, a clear 'Everything-Included' offer is provided inside the free area here.


As some of you know, I have been in the SEO business for over ten years, have operated multiple SEM companies, and have seen a lot of SEO technology claims. I am so sure you will want to join us that I will leave my Skype handle and business phone number below. If you have any questions at all, reach out by text. 


As a final word, the National SEO Ranking product free trial, KEYSTONE, requires that you RESERVE your keyword in advance - only after you sign up for the Mastermind Package that is right for you. So when you pull the trigger and join the private mastermind, please let us know immediately so we can get you chosen 'National Keyword' reserved to rank. This way, our team can cross that keyword off the list for availability, and nobody else can access that keyword in your country. 


To provide you with the absolute best SEO mentoring and onboarding service, we will limit membership to at most 80 Mastermind students and shut the door until Jimmy and Gavin decide to open them again. We expect to be one-third full shortly, so please take action or contact me to let me know you are ready to commit. 


You can reach me on Skype (for now) here:


You may join the temporary Skype waiting room here (open until November 30):  


You may TEXT me at the number below. And if you are an SEO Mastermind Academy Member, you may CALL me. But it is best to reach out by text first:


512-763-9300 


I look forward to seeing you on the inside.