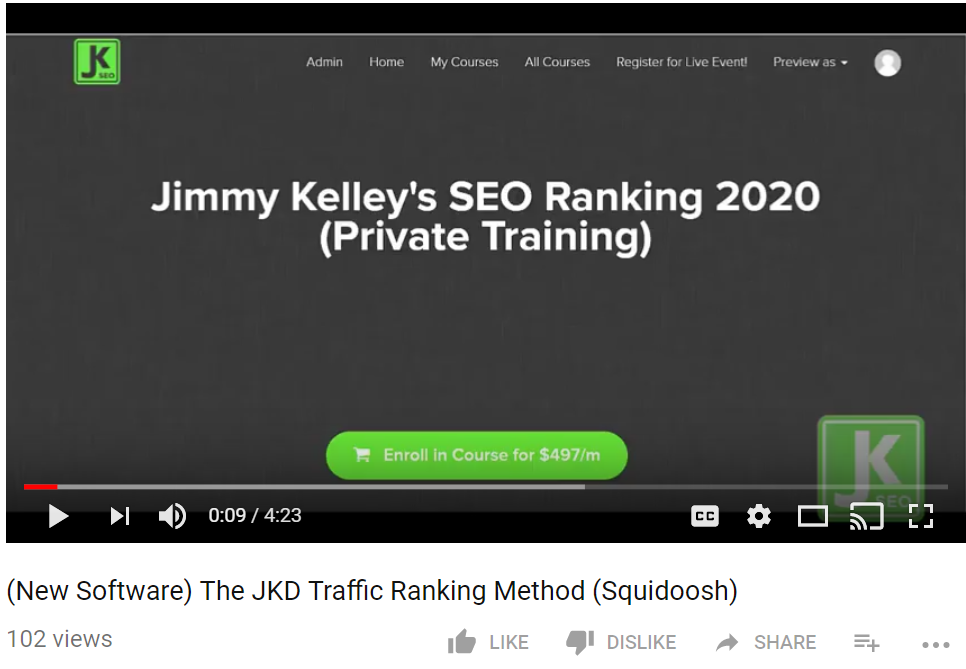 ---
We are going to lock the doors to this 'Training and Ranking Software' to new member's on the 18th of October. We want to explain why we are doing this because we find 'scarcity tactics' to be distasteful and Jimmy cannot stand hype if any kind.
The 'Traffic Ranking Software' that you get included with this training cost us over $200,000 dollars to build. It is not like other systems and services. We use it every day for our local clients and our high ticket clients with amazing and consistent results.
It is for this reason that we cannot have this open indefinitely for people to come and go as they please.
Today Jimmy decided that this software would be used ONLY in-house for our own Fortune 100 clients and local clients. The only exception to this will be those of you who elect to join this training. You will be able to purchase access to this system at volume if you are an agency, and you will be the only ones able to use it. In other words, we are "locking down" the buy button for the Traffic Ranking Software, and it will not be offered to the general public.
Here are some statements about the JKD Traffic Ranking Software that Jimmy Kelley made this morning.
Jimmy Kelley on ranking with Traffic Only:
"People have a hard time believing that you can rank many websites with traffic alone - like we did in front of everyone at the JKD Live event. Even when people saw it, it was hard to believe." - JK
"If you don't become familiar with this new 'traffic ranking' trend and technique, you could become like those unprepared for the Google Penguin armageddon." - JK
"It's not that link building does not work. You just need far fewer links, and sometimes ZERO links when you understand the new Google Patents and Updates." - JK
"If people have tried other traffic services and software systems that claim to understand "how deep the rabbit hole goes" technically in order to make 'traffic ranking' work, they should realize that we have tried them too - and we had to spend 200K to build it correctly." - JK
Please jump into this closed community, software and training program. You will be very glad you did. We cannot accept anyone after the 18th of October.
---
For those of you who do not need any salesletter (listed below) because you already have experienced the high level of skillset and training provided by Jimmy Kelley and Tonni Pederson, we have listed here a fast summary of this monthly training and software membership. This will allow you to make a fast decision and reserve your seat quickly as it is open to a limited number of people at this time:


Cliffnotes Overview (What You Get):
1. Access to the JKD Traffic Ranking Software (Web Based Interface)
How about ranking a website with just traffic alone - with few or even ZERO links?


You get $500 dollars credit for the all-new JKD Traffic Ranking Software EVERY MONTH. This means that the entire cost of this course is covered by your access to the software alone. Inside the training we will reveal more about how much power 500 dollars worth of credit can do. Generally speaking, depending upon locations, you should be able to cover 2 local websites for that. There are other combinations and 'National' price points as well. Currently, this software works in the United States, but we will soon have Canada and UK as locations where the software can be used. *This software will NEVER be released to the general public, so it will only be available to the 20/20 community members. You may want to get in now, as this training will eventually become the flagship JKD community hang out.
Here is a ranking graph from one our many tests:

2. Easy to follow step-by-step Webinars twice monthly with the industries best SEOs!
This course is taught personally by Jimmy Kelley and Tonni Pedersen. Jimmy Kelley is an industry expert and has trained hundreds of students worldwide. Tonni taught at the JKD Live Event in 2017, and his methods are proven and well received.
These webinars will cover a wide range of topics including, but not limited to:
- How to use traffic to increase rankings with zero additional link building
- Ranking Blueprint for Local, National and E-commerce Sites
- On-Page SEO anchor percentage
3. Ongoing SEO Tips, Tricks, and Hacks (Including Videos, Testing and Cheat Sheets)
We will be providing you with ongoing tips and tricks inside the member's only area. We will also be reporting to the member's only community - the results of our various SEO and traffic tests on a wide range of methods and techniques. We will also be grabbing the testing questions that you submit and providing tips, hacks and techniques that many of you have never seen before!
4.Private Skype Room
Yes, there will be a member's only skype group and BOTH instructors will have a presence. For those of you who know how hard it is to get in touch with Jimmy or Tonni, that should be a welcome bonus!
---
---
From The JKD Training Department:


JKD Headquarters, Austin Texas


Dear JKD community members,
Today we are announcing the launch of one of the most important training courses ever released by our organization and taught personally by Jimmy Kelley and Tonni Pedersen, one of Jimmy's highly skilled SEO technicians and collaborators.
Are you constantly trying to "get to the next level" when trying to rank any type of website including local, national and ecommerce? But no matter what you do, you constantly get stuck somewhere around the dreaded "8 to 12" positions on the search engine results page?
Probably one these scenarios will sound very familiar to you:

You're stuck at a ranking position that you cannot move past - you can't break above the second or third page with competitive keyword terms.


You are experiencing occasional ranking success. Sometimes you can rank a term. But you you are working too hard for inconsistent results. You never know if a ranking method is going to work or not. So results are hit-and-miss for your clients.


You are new to SEO, and no matter what you can't seem to get your head above water. You are overwhelmed with all of the contradicting information flooding the internet marketing industry.
If you are in any of those above categories, we get it.
We have spoken to hundreds of people in those above scenarios causing them to attend our live SEO and Traffic training events. So, yes, I know exactly what you are going through.
We have helped many students break through to the next level of SEO ranking and lead generation.
The challenge has been that Jimmy and Tonni are in HUGE demand by high-ticket clients, so it is hard to slow them down to answer your questions.
We get testimonials like this all the time:
It does not do Jimmy justice labeling him merely as an SEO expert. He is by far one of the most genuine and authentic innovators that pushes the limit on what's possible in search engine optimization. As one of his students, I have been able to utilize his groundbreaking techniques to boost not only the ranking of my sites, but also their Domain Authority one of Jimmy's signature tactics. - Haiming Jiang
as well as:
To all who know him, Jimmy Kelley is a leading innovator in the field of search engine optimization (SEO). He is 'the' expert I turn to whenever I need help solving a particularly problematic search results ranking challenge. Any business would be fortunate to have Jimmy working to bring them more customers and sales. - Don Roberts
and even:
Jimmy Kelley's SEO and marketing knowledge are unmatched in this industry. As a Jimmy Kelley student, I have learned more effective and powerful SEO strategies then I have with any other course to date. - Wayne Vass
Students Spoke and We Are Listening
Here are some weaknesses and areas of improvement that students have requested that we cover in this brand new ongoing monthly training:
1. Is Link Building Dead?

No, but traffic is becoming as important as link building. In this training we will show you how to implement methods and techniques that will get you stable rankings. We will show you different methods with local, national and ecommerce site. (We also have a software included in the training that you will be able to use at a massive discount).
2. Link Building Tips and Tricks
We will show you the best of the best link building sources, methods and techniques that will work well into 2018 and maybe even as long as 2020. We will show you different methods with local, national and ecommerce site.
3. On-Page SEO anchor percentage

We will train you to execute exact anchor-text percentage for link building in different website scenarios. We will show you different methods with local, national and ecommerce site.
4. Ranking Blueprint for Local, National and Ecommerce Sites
Is there a 'Ranking Blueprint' Jimmy and Tonni use for consistent results?

Yes, there is a "blueprint" for ranking any kind of website – Local, National, and even E-commerce sites. We will be showing you the variations on our live webinar trainings. You will have access to the webinar replay and you will be able to attend the webinars and ask specific questions.
Ranking Solutions that Seldom Work
Here are things people have done in order to rank their websites without consistent results.
- Some hired offshore SEO consultants which resulted in dubious and unpredictable results.
- Some purchased traffic from questionable sources which led to little or no ranking improvement.
- Some purchased links from questionable services which only moved the needle a little.
Because of the huge amount of testing we have done, we understand why some of your are frustrated and need an updated training course directly from Jimmy and Tonni.
New Insider Information:
What We Discovered While Testing the JKD Traffic Software
A lot has been changing in SEO and there is some new (and important) information that you need to be trained on.
We have tested and confirmed new SEO innovations while testing new traffic and link building combinations building the JKD Traffic Ranking Software, which you will get access to as an exclusive member.
Because of this discovery, we know how to use the right combinations of link-building and visitor traffic engagement. This allows us to rank any sort of website for moderate and difficult keyword terms even more consistently. We can also effortlessly rank any sort of website for dozends of long tails and we can achieve predictable SEO results again and again.
Get the Training and the Software Tool
Now, we are going to make available to you the tools and skill sets required to be able to accomplish the same thing.
Here's what we have:

It's called…

Jimmy Kelley's SEO Ranking 2020 (Private Training)

For a select number of serious people, we are offering a monthly group training program.
Inside, Jimmy and Tonni will take you step-by-step through the solutions discussed above via 2 or more monthly webinars and ongoing video tips and training.

You'll finally be able to more-easily rank any type of website including local, national and ecommerce.
Even if you're heavily experienced, there is always someone else who can see things in another way.
We can shed light on a better SEO and traffic approaches you may have never thought of. In other words, it is very likely that you will learn something in this training, even if you are advanced.
One of Jimmy Kelley's live events will cost anywhere from $5,000 to $20,000 per seat. This monthly training is a more affordable and convenient way to get trained from the best.
For Those Who Are Ready - Here's What's In It For You:
Now remember, this is going to be your journey.
In addition to 2 monthly group coaching webinars with Jimmy and Tonni, we're also going to cover all levels of link building. This will guarantee you build a solid foundation.
Here's just some of what we will include in webinars, videos and ongoing content:

1: Step-by-Step guidance from 2 SEO industry experts!
Jimmy Kelley and Tonni Pedersen. This is good for you because you won't have to sift through SEO and traffic methods that are untested warrior forum theories. This is important because they are industry experts that have achieved SEO rankings for hundreds of clients over the last 10 years.

Value: $20,000.00

2: Jimmy's New Web-based 'Traffic Ranking' Software included for members!
The JKD traffic ranking web-based software designed by Jimmy and Tonni is included in your membership. This is important because they are industry experts that have achieved SEO rankings for hundreds of clients over the last 10 years.

Value: $10000.00

3. You get two monthly "hands on" training webinars with Jimmy and Tonni personally : This is big because both of these expert SEO consultants charge over 1000 dollars per hour for their time.
Value: $80,000.00 for full year worth of webinars calculated at their day rate!
4. A decent number of SEO "Tips and Hacks" will monthly appear in the member's area : This a good thing because many of these are closely guarded secrets which you will be able to use for your own websites or your clients websites!
Value: $5000.00
5: Link building tips and tricks that will still work throughout 2018: This is great because many of the on-page SEO optimization methods are no longer accurate.

Value: $10,000.00
As most of you already know, this is information that can't be found anywhere else.
The only way to get this info is to sign up for this training or attend a live event. There is currently no JKD Live Event planned for this year.
If you know anything about Jimmy and Tonni, you know that their insights are unique, and their clarity is different from most of what you are getting from the other "gurus" out there - but that's because they TEST everything before sharing it with you.

Your Investment in this Program will Pay for Itself Over and Over Again!
But... You Have To Take Action To Get Real Results
No matter what stage you are in, you need to take action to see the results you are looking for. It is for this reason that we cannot offer refunds for this training program.
Remember though, you need to act quickly because spots are going to fill up quick.

We will be selling a limited number of searts. Once we close down the offer we won't release it again at this price. We are doing this because when working with serious students, we do not want groups to be too large because it prevents us from knowing everyone intimately and helping people individually when required.
We are looking for action takers. We want people who want to get to the next level.

We are here, ready and waiting to push you forward. All you need to do is click below to get started on the path to change your life forever and never look back.
Before we let you go, we wanted to send out a big thank you for reading this letter.
We are truly excited for you to get started with Jimmy Kelley's SEO Ranking 2020 (Private Training) and see your results.


Talk to you soon,
The JKD Team